Park City is known for its year-round festivals and celebratory events — and the Fourth of July is no exception! Nothing beats the Independence Day Celebration in Park City. This Utah town is packed with a plethora of exciting activities and events that are worth checking out. From the charming parade through Old Town to the colorful firework show, there's something for everyone. Read on to learn some star-spangled happenings you don't want to miss.
​​​​​​​

1. Start your morning off with a pancake breakfast
Kick off your Independence Day festivities by enjoying some pancakes! Held at City Park, The Pancake Breakfast is hosted by the local Boy Scouts. Everyone is welcome to this celebratory event, and the hearty breakfast is sure to get you through a busy day packed with festivities. The cost is $5 for children and $7 for adults. From here, it's a simple walk up Main Street to participate in the rest of the exciting happenings. This event takes place from 7 to 10 AM.

If you miss this event or opt to sleep in (who can blame you?), check out The Eating Establishment. Since originally opening its doors in 1972, this charming restaurant has been a beloved staple of the town and is frequented by both locals and visitors alike. The Eating Establishment serves breakfast dishes all day, including pancakes, a loaded baked potato omelet, avocado toast, and so much more. This place is often busy, so it's a good idea to make reservations in advance! 
2. Participate in a 5K
Once your breakfast has fully digested, consider participating in the Cole Sport 5K Fun Run! This tradition has been a part of the community for nearly 40 years, and if you're new to town, it's a great way to get to know your neighbors. Starting at 8 AM, you can join hundreds of other athletes burning calories and having a blast. This run is certainly beautiful, but be prepared for a handful of hills and some serious climbs. You'll want to preregister for this event, as it often sells out! 

If this is your first time running a 5K, there are some important tricks and tips to keep in mind. First, you'll want to make sure you invest in the right running gear and equipment — especially when it comes to running shoes. You'll also want to make sure that you start slow and steady and stretch thoroughly beforehand to reduce the risk of any potential injuries. Here are some more training tips for beginners! 
3. Experience the Historic 4th of July Parade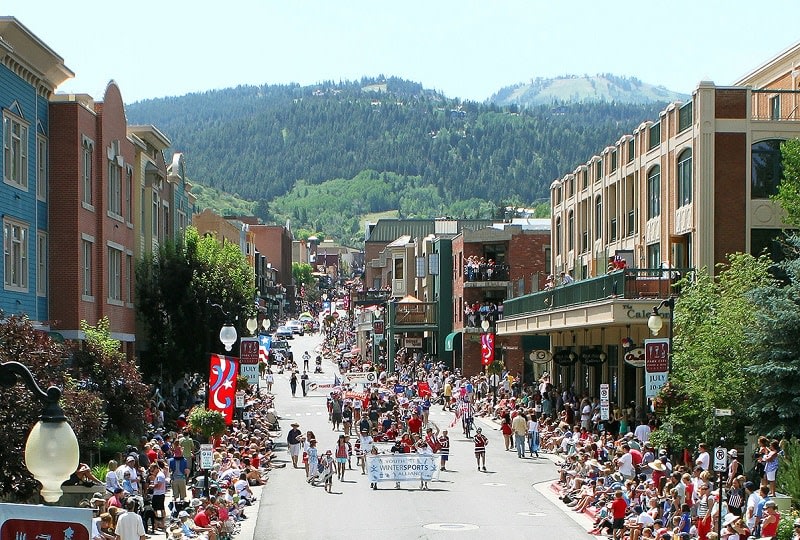 Credit: Enjoy Park City
After the race, head downtown and get a good seat for the famous Park City 4th of July Parade! A local point of pride, this parade attracts people from all over yet still retains a small-town charm that is hard to find elsewhere. This festive parade will proceed from the top of Main Street and progress through the Historic District before eventually ending at the City Park. This is a favorite spectator event that can be viewed anywhere between the stretch of Main Street to the City Park. Marvel at the nearly 70 fanciful floats, many of which are designed to show off the town's heritage. In addition to the bright and festive floats, you can also expect live entertainment ranging from marching bands to mariachi musicians. The parade starts at 11 AM, but be sure to get here early to get a good seat! 
4. Recharge with some afternoon coffee 
If you're feeling exhausted at this point and need a pick-me-up, then why not get some caffeine to do the job for you? Located on Main Street, Pink Elephant Coffee Shop is the perfect place to go. This artisanal coffee shop was founded in 2015 and offers espresso, other hot drinks, baked goods, and juices. If you're vegan, you'll be pleased to know there are some tasty baked treats waiting just for you. To make it even better, a portion of the proceeds goes to preserving and protecting the west's wildlife and open lands with contributions to local charities and foundations. It's a cup of joe you don't have to feel bad about! 
5. Join a mid-day bash in the park 
Once you're feeling rejuvenated after coffee, take a quick jaunt to City Park for a lively mid-day bash! The festivities here start at noon and continue until approximately 4:30 PM. There's something for everyone here, from music and food to games and kids' activities. Sit back, relax, and enjoy some live music featuring some of the best local talent in the area. There is also a beer garden available for adults who are hoping to quench their thirst. Your kids, meanwhile, will enjoy a plethora to do: softball, rugby games, or watching a live volleyball tournament. This mid-day event provides the perfect opportunity to hang out with friends and family in a casual and laid-back setting.
6. Attend the Oakley Rodeo
If you're wanting to kick off the festivities a day early, consider attending the 86th Annual Oakley Rodeo. Only a 30-minute drive from Park City, this is a four-day Professional Rodeo Cowboy Association-sanctioned event that draws some of the nation's best riders to the Oakley Rodeo Fairgrounds. This evening is filled with a lot of exciting events, including everything from bull riding to buckin' broncs to barrel racing to rodeo queens and clowns. You can also observe the Junior Rodeo and some live music to help you get in the spirit. And if you're feeling hungry, the finger-licking good barbecue is sure to satisfy your cravings. It can get a bit chilly in the evenings, so it's a good idea to bring some blankets and jackets when the sun sets. The event begins at 8:00 PM, but you might want to purchase tickets in advance, as the rodeo sells out quickly! With a rural setting and Western flair, this is the very best of classic cowboy entertainment.
(Image Credit: Oakley City)
7. Participate in activities around town
During the day, there are plenty of exciting activities to do! From 11 AM to 2 PM, you can head over to the Park City Library to take in some live music on the lawn. After that, consider heading over to Park City Mountain's Canyon Village for plenty more. Here you can find something for the whole family, ranging from live music to kid-friendly activities. Please note that outside alcohol is not permitted at this event! It's also a smart idea to walk, bike, or ride the free bus to in-town events, as traffic can often get congested. 
8. Watch the Park City Mountain fireworks
It wouldn't be the Fourth of July without topping your night off with a spectacular firework display! Lucky for you, Park City puts on a magnificent show that aims to impress. There's not a bad spot to see the fireworks, but great views of the show can be taken in from the golf course and across from the Resort. Additionally, Park City Mountain is a great place to go when it comes to watching the fireworks display. Here you can experience the best of unparalleled mountain views and colorful fireworks igniting the night sky — an experience that is truly like none other. Don't forget to bring a blanket and perhaps some chairs to make it an even more comfortable experience! 
9. Attend the Deer Valley Music Festival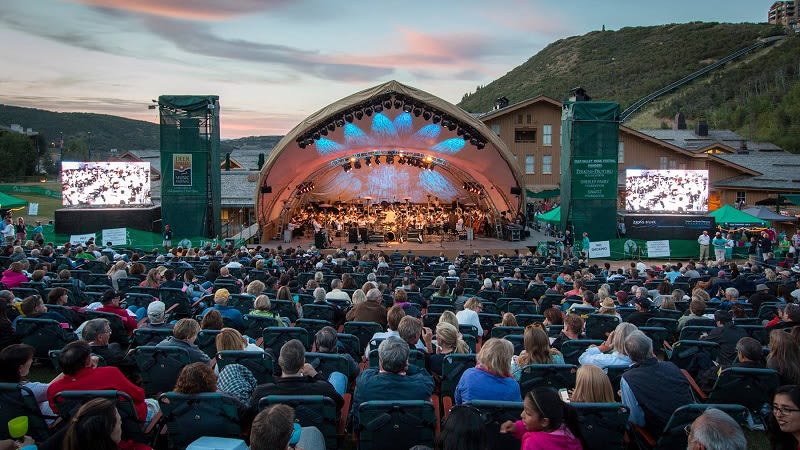 Nothing says summertime like some live music enjoyed with friends and family on a warm evening! The Deer Valley Music Festival is the summer home of the Utah Symphony. This eight-week series starts in early July and takes place in several incredible Park City venues surrounded by the Wasatch Mountains. Some of the venues include the Deer Valley Resort, St. Mary's Church, Temple Har Shalom, and many more. This year's event is starting on the Fourth of July weekend, and you can be a part of it!
(Image credit: Deer Valley)
10. Explore Park Silly Market
The Park Silly Sunday Market is another experience worth exploring. Located on Main Street in Park City, Pak Silly Market is an eco-friendly open-air market, street festival, and community forum that brings friends and families together. Enjoy wandering through the booths of vendors selling unique and eclectic arts and crafts, grab some delicious gourmet food, or pick up some fresh produce from local farmers. This market has something for everyone! 

If you're looking for homes for sale in Park City, contact Matthew Magnotta today. Whether you're looking for a short-term rental or a forever home, Matthew can walk you through the process from start to finish and help you find a place that's right for you. With years of experience in the real estate industry and a deep knowledge of Park City real estate, Matthew and his team can help you find a house that truly feels like home.