With its gorgeous atmosphere and charming shops, Park City is a favorite city among locals and visitors alike. It is known for the highly popular Sundance Film Festival, great selection of winter sports, and incredibly talented art scene. Located 35 miles southeast of Salt Lake City, the luxurious and striking Park City has a lot to offer.

Residents and tourists can enjoy a diverse array of things to do. There are lots of top-notch restaurants to enjoy a delicious meal, coffee shops where you can sip on the perfect latte, and boutiques where you can discover new treasures. If you are interested in learning more about the city's intriguing silver mining origins, you can visit the museum and local historical landmarks. At the theatre, you can enjoy a captivating storytelling experience.

With the arrival of fall, the trees are turning into vibrant shades of yellow, orange, and red. With the lovely scenery, striking views, and gorgeous houses, there is a lot to love about Park City.



Art & Culture

With over 300 classes offered each year and a rotating selection of exhibits, Kimball Art Center is the ideal place for art-lovers of all ages. Whether it is learning about abstract art at a workshop or admiring the beautiful artwork on display, this gallery provides plenty of ways to be inspired. If you are wanting to sharpen your skills as an artist or take a stroll through the featured masterpieces, then you won't want to miss a visit here.

Are you ready to spark your imagination and get in tune with your creativity? If so, then you will definitely want to come to this refreshing and invigorating nonprofit art center.



Entertainment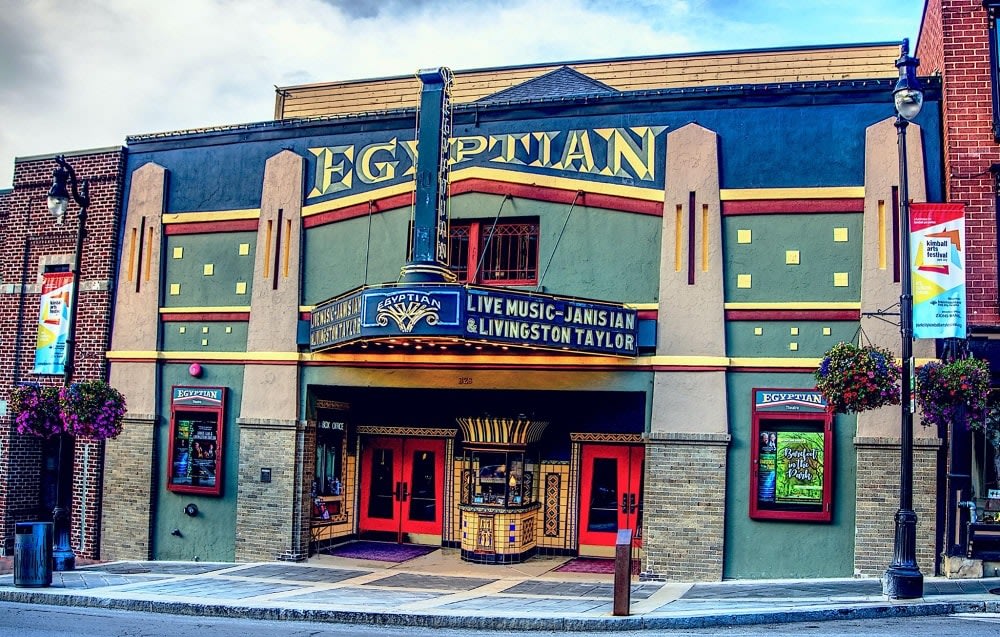 While the city is known for the Sundance Festival, it features its own creative storytelling legacy through the much-loved Egyptian Theatre. With a courageous and vibrant past, this theatre originally opened in the 1800s as an opera house. Since then, it was destroyed and rebuilt many times by fires and snowstorm damage.

Much like the town itself, this riveting theatre has proven time and again to be resilient in the face of hardship. These days it features a variety of brilliant performances, such as the Halloween thriller play and live concerts. One of Park City's best features, this theatre speaks to the heart and imagination of the city.



Things to Do

Looking for something fun and different to do? How about experiencing an escape room with your group? Here there is an exciting variety of themed escape rooms. You can sign up for The Mine Trap, The Parlor, or the Pirate Booty.

These original and imaginative experiences are the perfect way to bring out your inner detective, solve a mystery, and have a blast with friends while doing it. Whether this is for a birthday celebration or an evening of fun, this is certain to be an experience you won't soon forget! Additionally, there are escape rooms that are family-friendly and specifically designed for kids. They too can solve the puzzles and join in some good old-fashioned fun.



History

If you are wanting to learn more about the local history, the museum is a great place to start. Located on Main Street, it is filled with fascinating and fun exhibits, artifacts, and photographs that tell the stories of this wonderful city.

Here you can learn about the unique mining past, how the city began, and what has happened since then to make it the place it is today. With kid-friendly activities and rotating exhibits, the museum provides an entertaining and educational experience for guests of all ages. It is open Thursday to Monday from 10 am to 5 pm.



Family-friendly Activities

The local city park is well-beloved among visitors and residents alike. Here you and your family can go for a stroll at sunset, watch the kids as they play in the jungle gym, and enjoy a thrilling game of volleyball or basketball on the pristine courts. What's more, this is the ideal spot for a barbecue with friends at the onsite grills or a delicious lunch at the state-of-the-art picnic facilities.

With its wide, open green spaces and large pavilions, this is a great place to make special memories with those you love. Besides, what better way is there to enjoy the great outdoors and get some sunshine than spending a day at the park? So lather on the sunscreen, gather the kids together, and let's go!



Access to Nature

Located nearby in Salt Lake City, Wasatch Mountain State Park is open all year round. You can enjoy a wide range of activities here such as horseback riding, hiking the trails, or camping on carefully maintained grounds. Guests must make camping reservations ahead of time.

During the winter, there is the opportunity to ski, snowshoe, and snowmobile. This is an idyllic way to enjoy nature, breathe in the fresh air, and snap some pictures of the gorgeous scenery. You will be amazed by the beauty of the rolling mountains, sparkling blue lake, and vibrant fall colors of the trees. Whether you are here for a brisk bike ride or a leisurely stroll to take in the sights, this is a great way to soak up the changing season and admire the beauty of the outdoors.



Diverse Restaurants

A food lover's paradise, Park City is known for its plethora of excellent restaurants. Located on the historic Main Street, the award-winning Riverhorse provides a fine dining experience for all guests. It features an exquisite variety of American cuisine with live music performances and an urban atmosphere. When you walk the doors of this upstanding establishment, you will be greeted by friendly and professional staff.

As you peruse the menus, you will discover steaks, pasta, spicy shrimp, and much more. Each dish is made with the freshest ingredients, the perfect amount of seasoning, and cooked to sheer perfection. This is the perfect place to host your special event or have a fantastic birthday celebration. In fact, you can cater from this riveting restaurant as well. Guests are encouraged to make a reservation ahead of time.

Additionally, at Five5eeds you can enjoy breakfast, lunch, and dinner. Each dish is nourishing and delicious with its own unique flavors. On the kid's menu, the youngsters will be delighted to discover pancakes, burgers, and more. One of the best features of this fabulous restaurant is its wonderful variety of coffee. While you sit back and relax, you can sip on a cup of freshly brewed coffee. There is the chai latte, hot chocolate, and tea. If you are feeling in the mood for juice or a smoothie, you won't be disappointed here either.

With lots of exciting drinks and food options here, there is something special for everyone. Open hours are from 7:30 am to 3 pm every day. If you are searching for a warm-hearted meal, this is the place for you!



Great Drinks

Are you ready for a fabulous drink and the company of good friends? If so, then you won't want to miss out on taking a trip to the High West Distillery. There is so much to enjoy here such as the saloon, distillery, and guided tours. In fact, there is nothing quite like exploring all this stellar facility has to offer.

On the menu, you'll discover an exciting selection of drinks. There is everything from the American Prairie Bourbon to the Old Fashioned Barrel Cocktail. As you sip on cold drinks with your crew, you can marvel at the gorgeous views of the surrounding mountains. Trust us, this will be an experience you will cherish forever.

Additionally, with its welcoming and classic feel, No Name Saloon has a lot to offer. There is the Main Bar downstairs, a patio upstairs called the Loft with a heater for those colder months and the family dining area on the side. Whether you are here for a delicious dinner with your loved ones or a fun evening out with friends, you won't regret coming to this beautiful and vibrant establishment. There is an array of top-notch beers, cocktails, and wines to be enjoyed. For example, you can try everything from the Bloody Mary to Strongbow Apple Cider.

Are you feeling a bit hungry? Then no worries here! On the food menu, you can find items such as the Saloon Burger, No Name Veggie Wrap, and fish tacos. Each of these dishes is cooked to perfection and made with lots of love.



Credit: High West Distillery

Are you interested in exploring Park City real estate? If so, contact Matthew Magnotta today. As an expert in homes for sale in the Park City-Utah area, he will walk you through the house buying process and help you find your perfect dream home.