Well, let's just get into it…

What direction is the market going?
We are in the depths of a college hangover after a two-year real estate house party! Prices are coming down from the peak of about 10 to 15% market-wide. Some neighborhoods, like Deer Valley, are more resilient than others because of A++ location, the age of properties, and/or the amount of inventory available. From April 2022 to mid-July 2022 we saw inventory rise and prices soften. Typically, the 18th Week of the Year has the highest inventory levels as snow melts and people move on. There were pent-up sellers in our market this year, an effect of the Covid years prior. Inventory levels are finally down, pending sales are up, all good signs pointing towards a stabilizing house market.
Is now a great time to buy?
Well, a good salesman is always going say YES! to that question because if you wait you and your family will only be older when you do purchase something …..is it just about investment?? That said we don't anticipate prices softening too much more due to scarcity of inventory (Inventory Levels at only 60% of AVG levels). The Park City market tends to mostly fluctuate with the stock market, not interest rates and inflation. As always, if someone is purchasing with the idea of holding for 3-5 years + they should be in a great position to sell with equity at a later date.
The main trend between 2020/21 versus 2021/22 is that inventory was decimated, leading to a significant decrease in transactions and BIG gains in prices because many Buyers were chasing few properties. We're not working with Voodoo, Economics is Simple Supply & Demand.
AVG Sales Price in Deer Valley increased +$680,170 up to $3,783,397. This gain is about 3x the AVG annual gain……..3 years of gains in 12 months?!? Sales Volume Resort wide was approx. $700million down from $1.25billion the year prior due to Inventory shortage but Average prices went UP +25%. Sellers were in full control for the past 18 months getting 99% of their Asking Prices.
There were big jumps in the High Sales price in each of Deer Valley's neighborhoods. Most of these sales are timed with the top of the stock market (36,952.65 on January 5th, 2022)
Driven by low Inventory levels, both Empire Pass and Lower Deer Valley saw the biggest gains in Average sales price. Empire Pass received its main boost due to renewed confidence in the Talisker Club driven by substantial capital improvements. For Lower Deer Valley, it was competition for entry-level options in a location that will only get better with the future Snow Park Village Improvements.
NEW Deer Valley Developments
This is a historic moment in Deer Valley real estate because the final 2 slope-side ski in/out condominium projects are for sale now ……. FOUNDERS PLACE Deer Valley in the private Deer Crest neighborhood (AVG Price $4.25m) and SOMMET BLANC in Empire Pass (AVG $7.25m). After these, the future New Construction options will only be in the high-density Village locations of SnowPark and Mayflower and that could be years from now. NEW Ski in/out Land: Marcella is a collection of 160 home sites above the newly started Mayflower Village.
On the east side of Deer Valley near the Jordanelle Reservoir, the new development Mayflower Resort has broken ground and they are putting in ski runs now. Expectations are that it will likely be part of an expansion of Deer Valley Resort terrain which will significantly grow the size of Deer Valley's skiable acreage and add another Ski Village to the resort. Significant infrastructure Is already in with roads, ski runs, access to phase 1 of the Marcella Homesites, and foundation work on the first hotel.

Market Insights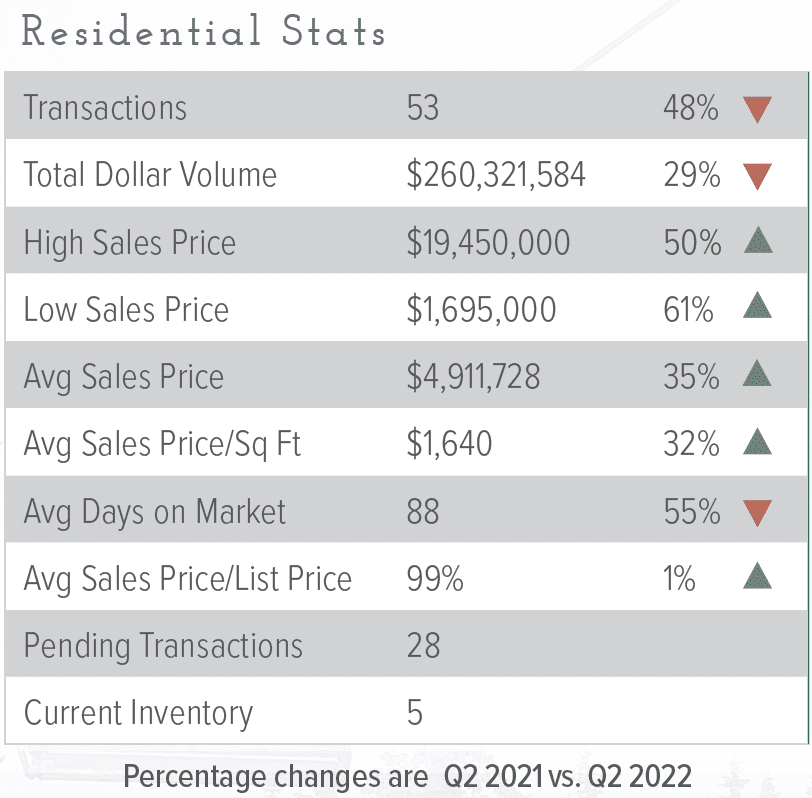 Inventory at historic lows……honestly that is an understatement! Currently only 5 residences on the market and typically there is 5 to 6 times that amount (25-30). Lack of competition has kept prices stable in that neighborhood.
Another factor driving demand in Empire Pass is the strong resurgence of demand in the Talisker club. The new owners have poured over $30 million into improvements and because people are spending more time in Park City, the club component has become more important. You can only join Talisker club if you own real estate in Empire Pass (or Tuhaye Golf Club by Jordanelle).
Overall Sales Volume is down -29% due to constrained inventory. The Highest Sales Price in the neighborhood's history was recorded at $19,450,000.
Very few negotiations happened over the last two years (-1% below Asking Price) but that is starting to change.
Sommet Blanc is not only the Last Development in Empire Pass but it is one of the final to slopeside projects in Deer Valley (the other being Founders Place by the St Regis). AVG Price approx. $7.25m. Call for Details.

Why Buyers Choose Empire Pass
The newest and most exclusive ski-in/ski-out community. Empire Pass is comprised of 1,600 acres, of which only 10% will be built on.
• Ski and Trail Access
• Top of the Mountain Views
• Montage
• Talisker
• Newer Properties
• On Demand Car Service

Market Insights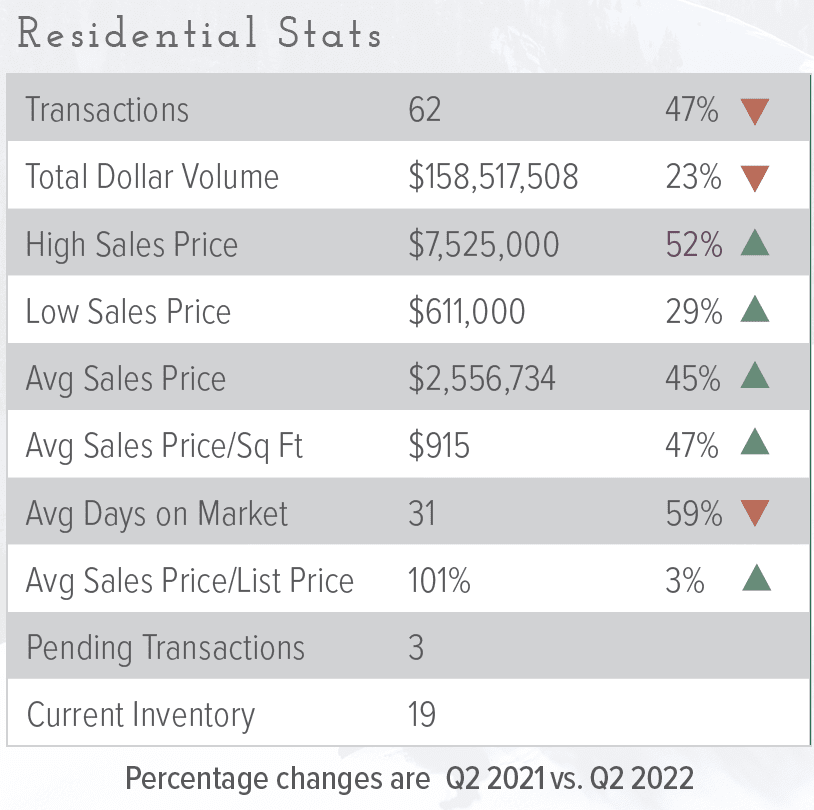 Investor Buyers continue to drive demand in Lower Deer Valley due to entry-level pricing, solid rental returns and expectations that the future SnowPark The village will give a bump to values. Investors should take a hard look at this neighborhood. Pricing in Lower Deer Valley is well below the surrounding areas on a price/sqft and have the highest upside in my opinion once the Snowpark Village is complete.
On AVG Seller got 101% of their Asking Prices. We have never seen a yearly AVG of over 100% in Deer Valley. Historically buyers can negotiate 5 to 7% below asking price.
A new ski lift is being put in from the Snow Park base to Little Baldy Peak this fall. The main benefit is for beginning skiers graduating from beginner terrain some of the resort's best green terrain.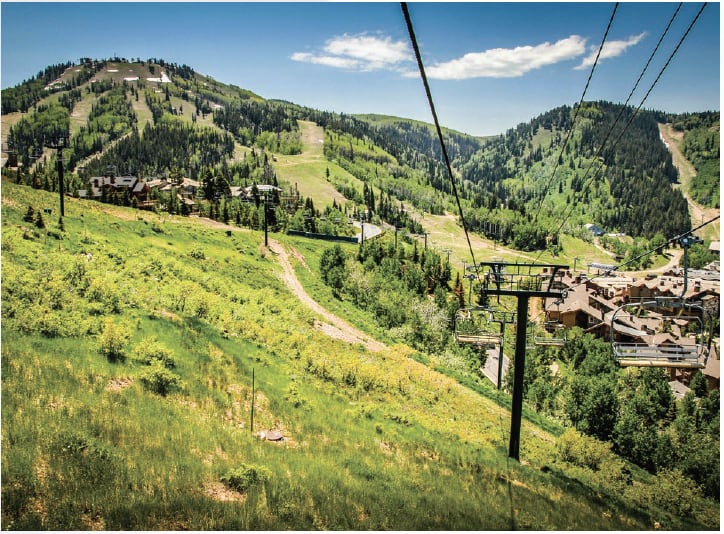 Why Buyers Choose Lower Deer Valley
Named after the early ski resort that preceded Deer Valley Resort, Snow Park is the neighborhood at the base of the Deer Valley® ski area.
• Entry Level Price
• Walk to Main Street
• Summer Concerts/ Ski Competitions in the Winter
• St. Regis Deer Valley (Access to Restaurants and Spa)
• Future Snow Park Village (Ask us for details)

Market Insights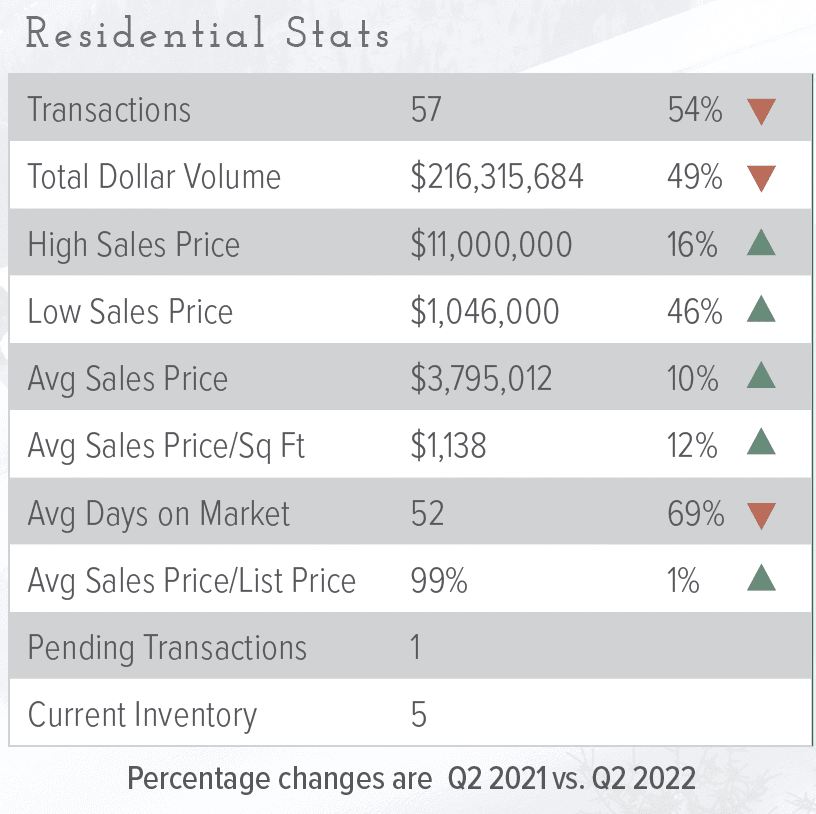 Theme repeats itself here: Transactions dropped due to scarcity which caused competition amongst Buyers that drove up the AVG Sales Price.
It is worth noting that there is no dirt left to build on in Silver Lake or Upper Deer Valley now that the Goldener Hirsch Hotel Phase 2 is complete. That will insulate Appreciation levels going forward due to a cap on supply.
Several Sales over $ 10 million happened in the coveted Bald Eagle neighborhood. This gated low-density ski in/out neighborhood is coveted by Families looking for a Sanctuary Location.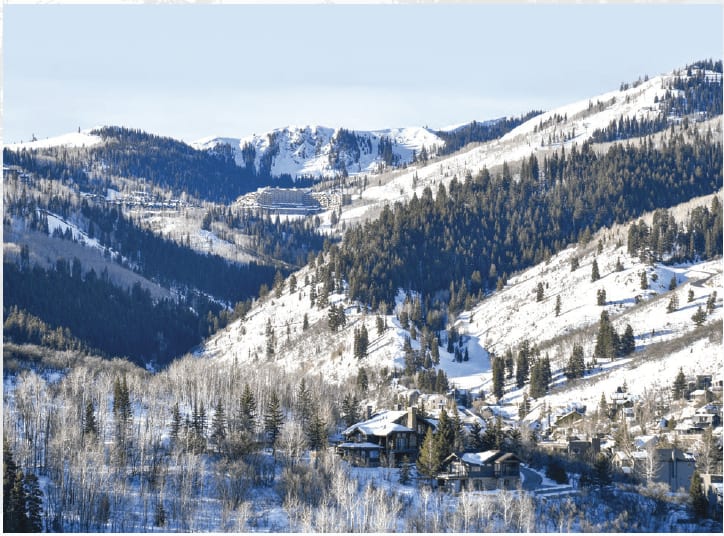 Why Buyers Choose Upper Deer Valley
Known as Park City's first mining settlement, Silver Lake Village is located in Upper Deer Valley above Park City's historic Main Street.
• Ski-In/Ski-Out
• Old Deer Valley Charm
• Mid-Mountain Location
• Pedestrian Access to Shopping and Dining
• Mountain Biking and Hiking Hot Spot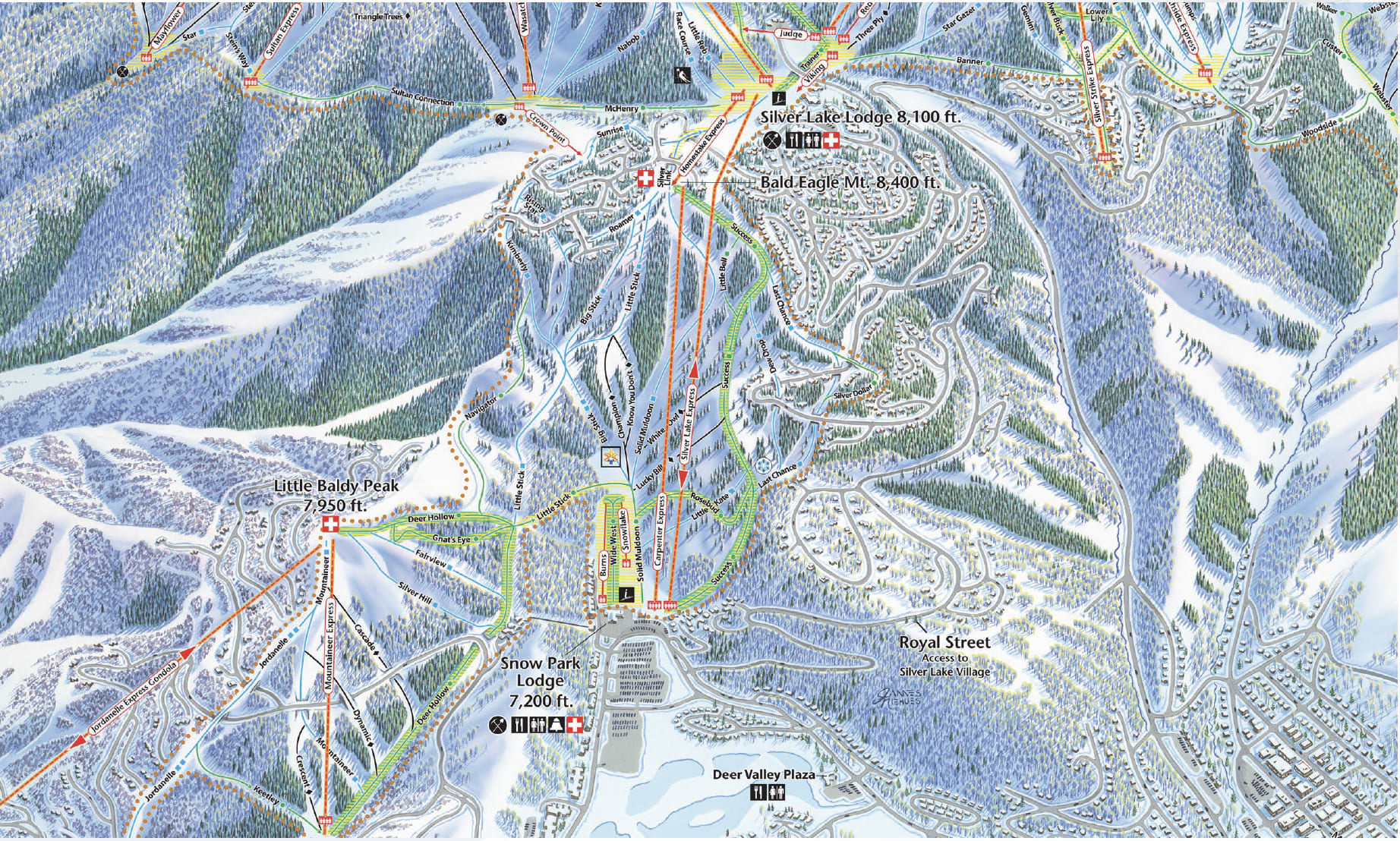 Market Insights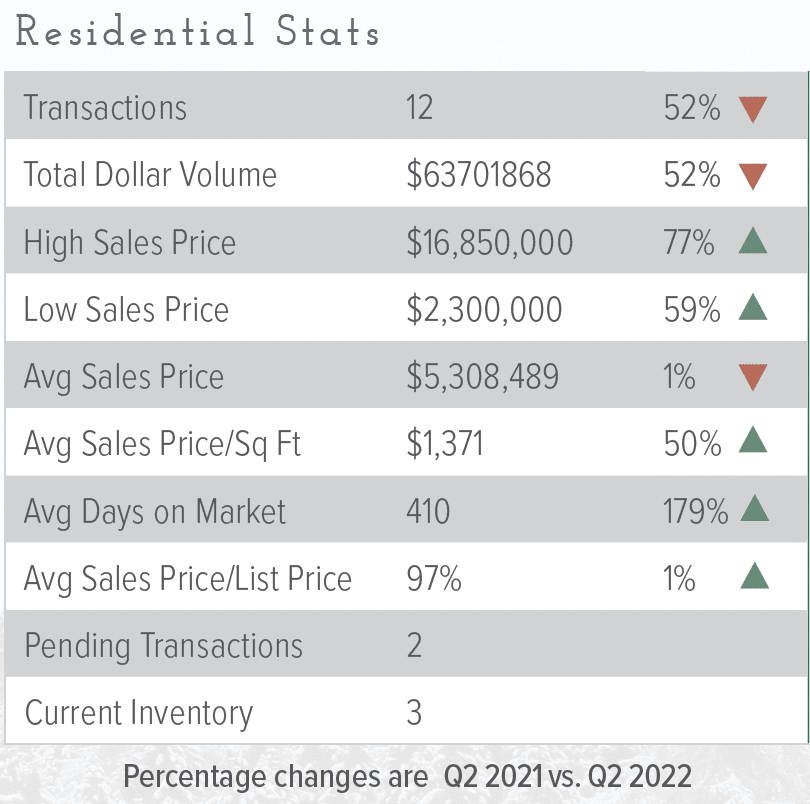 Price per sqft jumped +50%!!! …..... But why? Deer Crest owners are passionate about this area due to the private gated element, low density, great ski access, big views and direct access to the St Regis hotel. These elements have always been important but especially during the pandemic.
Inventory in Deer Crest and Empire Pass are heavily constrained because there are very few places to upgrade from these neighborhoods causing Owners to stay put.
As Park City gets busier each year, Families increasingly appreciate the seamless accessibility and quiet private nature of Deer Crest. Zero stop lights to Main St and Zero Stop lights to the Salt Lake International Airport.
This neighborhood will see a BIG Bump in Sales Volume in 2024 due to the success of the NEW Founders Place Condominium Project located at the base of the Mountaineer Ski Lift. Over 80% of Phase I sold this Summer but the developer has two more phases. Mountain Modern Design is supported by Amenities and Service Staff.
NEW & FINAL Development in Deer Crest; Founders Place is Located at the base of the Mountaineer Lift and surrounded by hundreds of acres of Open Space / Ski Terrain. Mountain Modern Architecture with extensive Service and Amenity Package. Call for Details.

Why Buyers Choose Deer Crest
The exclusive Deer Crest real estate area offers some of the most luxurious single-family homes and condominiums in the world.
• Coveted Private Community
• Super Convenient Access to Town and Airport
• Ski-in/Ski-out Single Family Homes and Condos
• Spectacular Mountain and Jordanelle Views
• Future Mayfower Village Nearby for Shopping and Dining
• St. Regis Deer Valley (Access to Restaurants and Spa)