Park City has been buzzing ever since Tiger Woods announced that he will be building a golf course at Marcella Club which is only 10 minutes from Deer Valley Resort and about 25 minutes from Park City's historic Main St. Announced in early February 2023 by the development group,
Golf Digest
,
USA Today
, and other major publications. This golf course will be one of the highest in elevation at 7000 feet above sea level and it will be part of an expansive amenity package that connects members not only to the golf course community but ski-in ski-out facilities and a member-only restaurant on Park City's historic Main Street.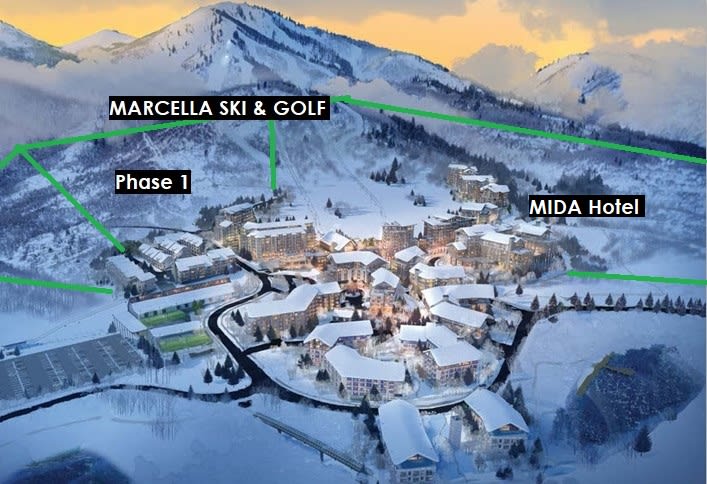 People are scrambling to understand how to become part of it. There are two ways to join right now;
Families can become Founding Members by depositing a membership amount (amount disclosed once you engage the Developer). There will be no annual dues until amenities are open and functional and it puts a Family at the front of the line when homesite opportunities are released. If the Family decides not to purchase real estate in the future then they will receive a refund on their membership deposit.
Purchase a ready-to-build Ski In Ski Out home site in the Marcella neighborhood adjacent to the Mayflower mountain village. Click Here for Current Options and Call for more information on off-market opportunities.
Important Things to Know about Tiger Woods's Future Golf Course at Marcella:
Location - This location is what I would describe as 'Removed but not Remote'. With it being approx 10 minutes to Deer Valley Resort and 25 minutes to Main Street Park City it is certainly close to other Iconic Utah places of interest BUT once you get to Tiger's Course you will feel like you are a million miles away from the hustle and bustle. That is a pretty special and rare combination.
Views - Everyone says they have the best views but as someone who has intimate knowledge of this piece of land (spent many hours mountain biking here) these views will not disappoint anyone.
Land (topography and vegetation) - As an ex-PGA Head Golf Professional in the Lake Tahoe area I feel that I have a good sense of Mountain Golf and what will make a course stand out from the pack. It all starts with the land and vegetation. Tiger Woods is very fortunate to have access to this parcel. The land is what I would call gentle rolling terrain set atop a prominent mountain. Typically the higher you get the steeper the terrain becomes. In addition, The variety of Aspen Trees, Gamble Oak, High Desert Sage, and Pine Trees gives me the sense that certain parts of the golf course will have their own distinct personality creating interest for the player.
Connection to Deer Valley Skiing - The greater Marcella Club will have a ski-in/out clubhouse at Mayflower Mountain that will have ski storage and ski valet services for members.
Altitude - At 7,000 feet above sea level it will be one of the highest golf courses in the mountain west. The benefit to the player is that objects travel about 5% further for every +2,000 ft gain in elevation. This would add about +15% in the added distance for members, therefore if a member hits a 265-yard drive at Sea Level their tee shot would travel 305 yards at Marcella...... I've heard golfers compare playing at high elevations like this to what it must be like to swim in the fountain of youth!
Design Strategy - Honestly, I am so happy to hear that Tiger is going to make great efforts to create a course that is approachable for all ability types but a course that also tests expert players through a myriad of nuanced challenges and longer holes for those 'Ego Players' who 'Tip Out' the golf course. Too many ex-Professional Players who design golf courses tend to create overly difficult courses because the game is 'too easy for them' (I will not name names here but I'm sure the reader is thinking about several as they read this :)
For an overview of Park City's existing Clubs please read our
blog here
and our real estate value analysis
h

ere
.
Let us know if you would like to do a site visit or if you have additional questions about joining.
In the meantime…….. Hit'em Far & Sure!
Whether you are looking to buy or sell Park City Real Estate, our team of Realtors is here to help. Over the past 5 years, we've sold over $500 million in property in Deer Valley, Empire Pass, Old Town Park City, the Canyons, Hideout, Tuhaye, and all surrounding areas. We strive to be the best realtor in Park City and no job is too big or too small. Deer Valley homes, Park City condos, Empire Pass ski-in ski-out properties, Hideout lots and New Construction is all in our wheelhouse so please don't hesitate with the simplest of questions. We look forward to hearing from you so please reach out with your questions! Matthew Magnotta ([email protected]) Lindsey Holmes ([email protected]) Brad Erickson ([email protected])
For more information on us and to meet our Team - https://parkcityrealestate.com/team