Just east of Salt Lake City, Park City is one of Utah's premier mountain areas. While the area is renowned for skiing, mountain bikers know that Park City has some of the best mountain biking in the world. With over 450 miles of trails, you're guaranteed to find the perfect trail for your experience and skill levels. No matter which trails you choose, one thing is certain; you'll have unforgettable views and memories. Let us take you through the best trails Park City has to offer.


PorcUclimb - Downward Dog
This green circle trail is one of the more manageable ones in the area. But don't be mistaken — "manageable" certainly doesn't mean boring! This trail can take anywhere from 20 minutes to 1.5 hours, depending on your speed and ability. The trail was specifically designed to encompass multiple wheels, so don't worry about feeling cramped.

You'll start at the Round Valley Way parking lot and continue on a slightly inclined yet spacious dirt road. After this warm-up, the PorcUclimb trail really begins. You'll enjoy glorious views of Park City Mountain and Deer Valley before descending on Downward Dog. From top to bottom, this trail has very few "technical" features. It's an excellent option for those just beginning or who want to take it easy.


Holy Roller
Located in Deer Valley, this trail is great for beginners or for those who want an easier ride. It's a four-mile ride with a 1,3000-ft descent. Bring your kids and appreciate the stunning views of Deer Valley's mountains and aspen groves. You'll need a lift ticket to ascend, but it's all downhill from there!


Jenni's Trail
This Park City Resort trail is perfect for beginners with some experience. It's three miles in total and is a great option if you like ascending via chairlift and descending via bike. The descent is 1,300 feet long and will send you through ski trails with unbeatable views. You'll be able to enjoy the many wildflowers aspens because the descent is very gradual. You can also bike up the trail if you're feeling extra motivated. The uphill isn't too technical and will add to your ride.


Round Valley Trail System
Round Valley Summer spans across 700 pristine acres, and with over 30 miles of trails, the Round Valley Trail System is ideal for family fun. It's just east of Old Town and has a variety of wildflowers, scrub, and trees. Head to Quinn's Trailhead. From here, choose from a variety of green, blue, and black trails. Matt's Flat is a great option for beginners, while Somewhere Elks is a solid trail that you can get to from Matt's Flat. For a really intense ride, skip ahead to Silver Quinn. 


Wasatch Over Wasatch
Intermediate riders love this trail, which reaches its highest elevation at 8,427 ft. The climbing doesn't begin until the 2.3-mile marker, so you can take time to acclimate. You'll cruise past a lot of wildlife and may even see elk, moose, and mountain lions! As you climb into your third mile, make sure to appreciate the gorgeous Aspens. This ride is called the "WOW" ride for a reason! Changing ecosystems throughout means you'll go from high alpine meadows to spruce forests, dense flowers, and foliage. These trails are an awesome way to see all the natural beauty Park City has to offer.



Flying Dog Loop

Flying Dog Loop is an intermediate trail that's not so difficult you can't bring the entire family along. It starts at the main trailhead and has a relatively mild and quick uphill before descending at Glenwild Loop. You'll eventually hit Flying Dog, which is a more advanced section of the trail. There are over 16 switchbacks and a few very tight and steep areas. One thing to note about this ride? It's very hot and sunny. Bring lots of water, and you'll be able to enjoy all the twists and turns.


Mid-Mountain Trail
With an elevation of 8,000 feet, Mid-Mountain Trail is a great intermediate ride with some of the best views around. Take it from Deer Valley Resort to Park City's Summit Park neighborhood, and enjoy the Aspen groves and pine trees along the way. This is a great trail because you can tailor the length to fit your needs. Choose a shorter loop, or make the full ride from Deer Valley to Summit Park. 


The Crest Trail
If you're an experienced rider who really wants a challenge, consider The Wasatch Crest Trail. This trail reaches 9,915 ft. and is one of the best black diamonds in the area. Start the journey at the Park City Mountain parking lot. Things are pretty reasonable until the 9.3-mile mark, at which point you'll reach Puke Hill. This aptly named hill is incredibly steep and requires a mastery of mountain biking. There are descending trails at this point, but you can also continue to The Crest Trail. You'll be on a narrow and very elevated trail, so be cautious if you decide to take photos. Should you choose to continue, you'll eventually reach the top of the Utah Olympic Park. Incredible views and a pleasant descent follows. The best part? You can cop off this grueling ride with food from Kimball Junction. Check out Red Rock Brewery or Maxwell's Pizza.


Tsunami
Tsunami is a new trail—and a tough one. This expert ride is packed with jumps and other high-level technique challenges. It's only a two-mile ride, but the descent is intended for free riders who aren't satisfied cruising down the mountain. There are bridges with steep drops, and traffic tends to move quickly. Ascend via chairlift and then prepare for big jumps. The biggest is 25 feet!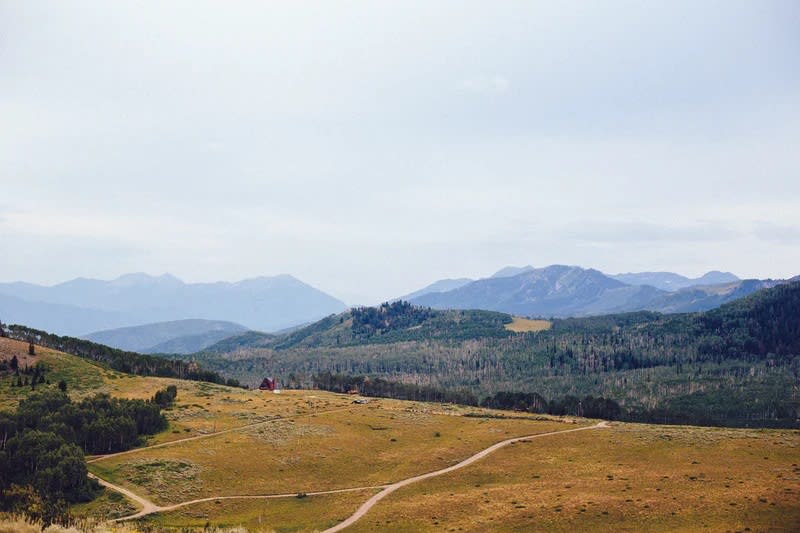 NCS
NCS is a one-mile, downhill ride that will leave experts exhilarated. It's a black diamond, "old school" race track full of technical features—rock gardens, drops, and jumps, to name a few. There's enough room on the trail to have fun with this ride, so bring your A-game.


West Old Town 
The West Old Town trail system offers myriad winding trails to accommodate many different experience levels while immersing riders in Park City's breathtaking and unparalleled landscape. Take the whole family out on a spin through these trails to soak up the summer sun. 


Historic Rail Trail 
Established in 1992 as a State Park, the Historic Rail Trail stretches 27.7 miles with challenging and exhilarating terrain. Beginning at an elevation of 6,900' and dropping to 5,380' over the course of the journey, this trail is narrow throughout and only spans 10' at its widest point. Unique for its multi-use purposes, dramatic scenery, and length, the Historic Rail Trail is a stunning excursion perfect for riders seeking to taste a bit of local history along the way. 


Events on the Trails
If you're hoping to spectate or participate in an event on these trails soon, be sure to add these can't-miss challenges to your calendar! The Triple Trail Challenge is an annual fundraiser for Poto Mountain Biking Association and is presented by Tree Fort Bikes. This event allows 100 riders per day to traverse the Pinckney Waterloo Hiking Trail. Jupiter Break Steeplechase is another adrenaline-pumping afternoon that you won't want to miss out on, and this foot race traverses 16 miles around Park City Mountain Resort. 

If you're looking for homes for sale in Park City, contact Matthew Magnotta today. Whether you're looking for a short-term rental or a forever home, Matthew can walk you through the process from start to finish and help you find a place that's right for you. With years of experience in the real estate industry and a deep knowledge of Park City real estate, Matthew and his team can help you find a house that truly feels like home.