The first impression that potential buyers get from your Park City real estate is usually the most important. In fact,
staged homes sell faster
and can even fetch a higher price. By properly staging your home, you can make an impression that sells your home from the moment a buyer parks outside.
It would be easy to assume that the most important impression most buyers will take when looking at your home is the location itself, and it is indeed a key selling point. However, by taking a few recommended steps, you can create an impression that may even outshine the landscapes and vistas, and ensure that you get a substantial return on your investment (ROI).
Take Yourself Out Of The Picture
You love your home and the many personal photographs, decor, and accents throughout the house. However, potential buyers won't be interested in seeing memories of your adventures or the antique teapot collection.
By depersonalizing your home
, you leave a space where potential buyers can imagine themselves and their family and friends creating new and lasting memories. As a seller, you might not want to remove the pictures or stash away plaques and awards, but it can be essential for helping potential buyers to envision how they will use the space.
Similarly, beware of anything that could pigeonhole a space or discourage potential buyers from fully imagining themselves within it. In bedrooms, avoid decor that hints toward a specific gender or even age range. If a room was used as a nursery, completely redecorating it as a neutral bedroom might be further than you want to go, but you can still paint the walls in warm, neutral colors and bring in bedding and decor that leaves more to the imagination.
Keep Some Personality
While it is good to remove personal items that may interfere with a potential buyer seeing their own uses for a room, that does not mean you have to completely sterilize your home, nor should you. Artwork, small vases or similar universal touches can actually
help a potential buyer feel at home
.
You will have cleaned, decluttered and organized your home during any staging process, and now is the opportunity to look at spaces such as shelves and side tables and consider an added touch that will give the space an inclusive and homelike feel. This is also a process in which a qualified Park City real estate agent can help you to decide what will best serve the impression you want to create for potential buyers.
Let The Light Shine In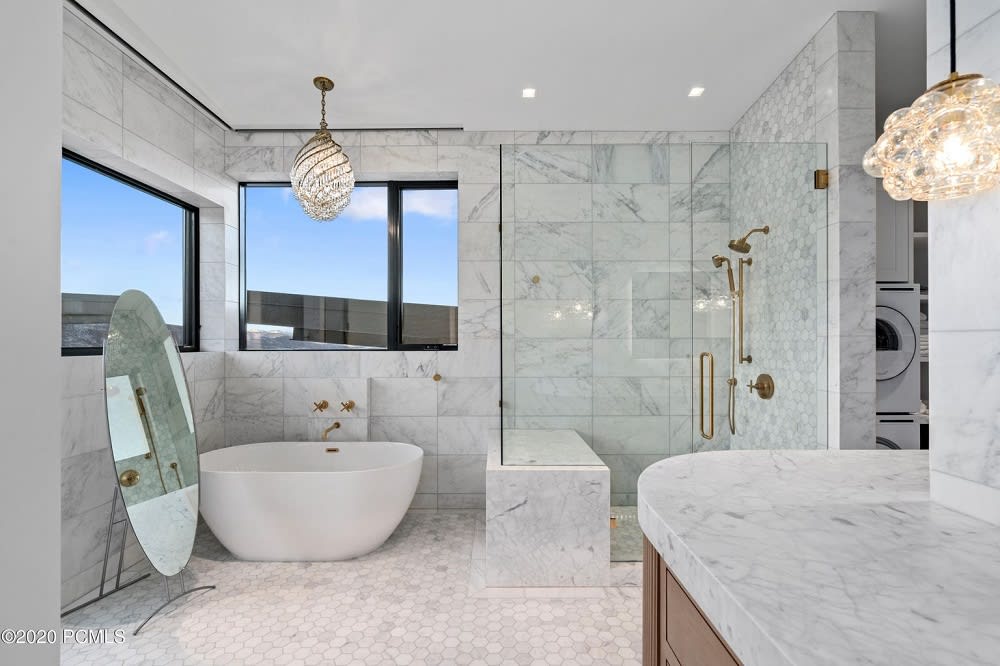 Photo courtesy of Matthew Magnotta
One of the areas in which Park City real estate outshines other locations is in the sense of space and openness. You can bring some of that sense of open space into your home with well-placed mirrors. A mantle, blank wall or similar space may be easily complimented by a mirror. Not only will it make the room feel brighter and add depth, a mirror can serve as a focal point as well.
Mirrors, when properly placed and not overused, can be the ultimate inclusive piece for adding a sense of homelike warmth to a room. They can serve a similar purpose to other forms of decoration, such as neutral artwork, while reducing the risk of making a choice that might clash with a potential buyer's sensibilities.
Add Some Nature To The Space
This tip applies equally to the inside and outside of your home. Even if you do not have a lot of yard to show off, that does not mean it cannot
leave a lasting impression on potential buyers
. Park City real estate is particularly well-suited to natural landscaping touches, such as evergreen shrubs in planters near the front entrance or on a back patio. The exterior is the first impression potential buyers will have, so make sure that impression is a positive one.
Inside, potted plants and artwork made from natural materials can add to the sense of the outdoors and natural beauty that attracts many people to Park City in the first place. Certainly, as with anything, moderation is always the key. You do not want to turn your home into a forest, and some sellers may even want to tone down their interior nature levels. As with all your staging choices, a knowledgeable Park City real estate agent can help you strike the right balance in all of your staging decisions and make certain that you get a good ROI from your staging efforts.
Consider a Few Update Projects

Home renovations are not anything most people look forward to. When you are looking to sell your home, it is likely that the last thing you want to worry about is re-doing your kitchen or pulling up the floor in a bathroom, particularly if it is a kitchen or bathroom you thought about changing but never got around to while you lived there.
Regardless, even limited renovations, such as installing new kitchen appliances or just putting a fresh coat of paint on cabinets, can greatly improve the impression potential buyers take away from a showing. When buyers see a kitchen or bathroom space that looks outdated, they will wonder what other work they might need to do. Updated spaces send a message that the home has been taken care of, and reassures buyers that they can buy your home without planning for immediate renovation expenses.
Find the Right Park City Real Estate Agent
You know a lot about your home and what looks good where. After all, you have lived in that space and passed through its rooms day-in and day-out. However, if you want to ensure that you receive the best ROI on your staging efforts, working with an agent knowledgeable in Park City real estate, such as
Matthew Magnotta and the team at Berkshire Hathaway Utah Properties
, can ensure you spend your time and energy wisely.
*Header photo courtesy of Matthew Magnotta

Whether you are looking to buy or sell Park City Real Estate, our team of Realtors is here to help. Over the past 5 years, we've sold over $500 million in property in Deer Valley, Empire Pass, Old Town Park City, the Canyons, Hideout, Tuhaye, and all surrounding areas. We strive to be the best realtor in Park City and no job is too big or too small. Deer Valley homes, Park City condos, Empire Pass ski-in ski-out properties, Hideout lots and New Construction is all in our wheelhouse so please don't hesitate with the simplest of questions. We look forward to hearing from you so please reach out with your questions! Matthew Magnotta ([email protected]) Lindsey Holmes ([email protected]) Brad Erickson ([email protected])