See Below for a tour of the Newest Tuhaye Short Course and Talisker Clubs' Newest Amenities
Short golf courses, my friends, are the future of the game of golf! I'm not just teeing off on this idea; I'm driving it right down the fairway because I truly believe that these pint-sized courses are like the hole-in-one of golf innovations.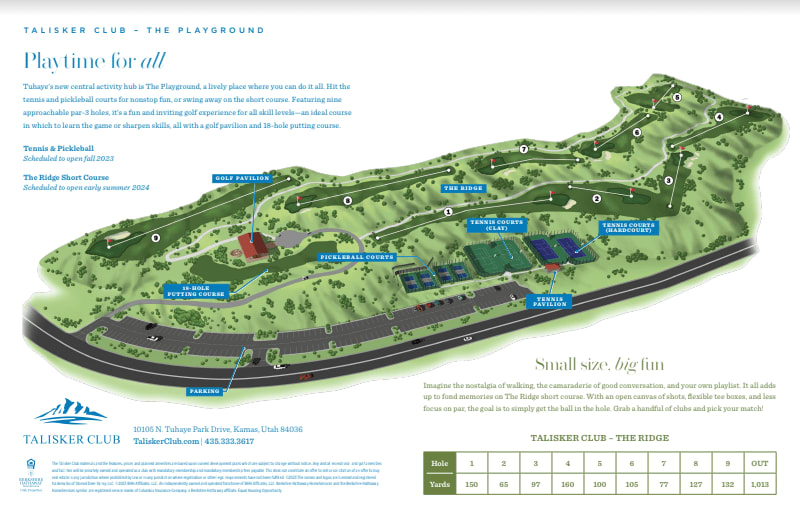 I'm leading with that bold statement because I do believe that the trend of these 'wee' courses is one of the best things that can happen to the game of golf. As someone who competitive golf, was a PGA club professional in the late 1990s and early 2000s I've dealt with trying to overcome the barriers to the game; The game takes a fair amount of time to play (3-5 hours), and in this fast-paced world that is becoming less desirable. In addition, in the late 90s, there was a trend of building golf courses that could host a PGA tour event, and those courses tended to be overly difficult for the average player which ultimately caused players to leave the game. These 'wee' courses also reduce the amount of people playing the championship golf courses improving the experience and pace of play. Lastly, The short course also takes less water and less acreage and is a great alternative to building an additional 18 holes in most communities.

Tuhaye / Talisker Club, Promontory & Red Ledges all have a Wee Course. The Marcella Club (Tiger Woods) will be building one, as well. Click Here for more information on all of Park City's Private Clubs & available Real Estate options.

Due to the ability of all ages to enjoy these courses, I see them as great investments for these clubs that will boost real estate values in Tuhaye / Talisker Club, Promontory Club, Red Ledges, and the future Marcella Club.
So grab your putter, a wedge, flip-flops, and a cocktail and get out there, enjoy these great creations!…….. and May the Wind Always be at your Back!
Whether you are looking to buy or sell Park City Real Estate, Deer Valley Real Estate, or Midway Real Estate, our team of Realtors is here to help. Over the past 5 years, we've sold over $500 million in property in Deer Valley, Empire Pass, Old Town Park City, the Canyons, Hideout, Tuhaye, and all surrounding areas. Being the best realtor in Park City is what we strive for and no job is too big or too small. Deer Valley homes, Park City condos, Empire Pass ski-in ski-out properties, Hideout lots and New Construction are all in our wheelhouse so please don't hesitate with the simplest of questions. We look forward to hearing from you so please reach out with your questions! Matthew Magnotta ([email protected]) Lindsey Holmes (li[email protected]) Brad Erickson ([email protected])
For more information on us and to meet our Team - https://parkcityrealestate.com/team