Snowpark Deer Valley, best known for being the main access point for Deer Valley Resort, has long been a skier's paradise with unparalleled winter experiences. Now, it's on the cusp of an exciting transformation with the introduction of the Deer Valley Master Plan and Snowpark redevelopment. This visionary development is a collaborative effort between Extell Development Company and KSL Capital Partners, both names synonymous with luxury and innovation. Join us in exploring the Deer Valley Master Plan and the most recent news, its anticipated groundbreaking date, and how the public is responding to this exciting project.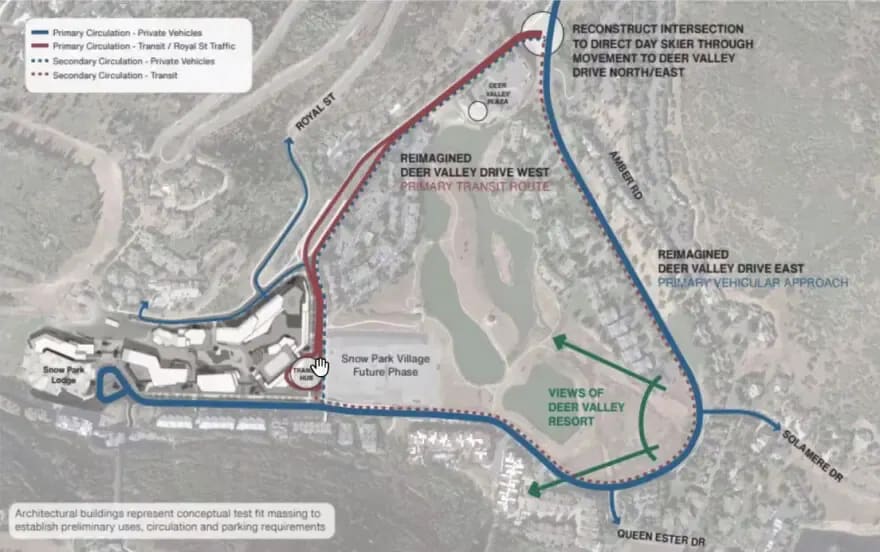 A Visionary Collaboration: Extell and KSL Capital Partners
Extell Development Company: Founded by Gary Barnett, Extell is renowned for its transformative real estate projects around the world. Their commitment to excellence and innovation is set to reshape Snowpark Deer Valley into a premier destination. Extell is currently underway at the new Mayflower Resort building a ski-in ski-out hotel to be branded at a later date.
KSL Capital Partners: Known for their investments in luxury hospitality and recreation, KSL Capital Partners brings a wealth of expertise to this project. Their track record ensures that the Deer Valley Master Plan will offer an exceptional experience to visitors.
When Will They Break Ground on the New Deer Valley Base Village?
One of the most eagerly awaited milestones for the Deer Valley Master Plan is the groundbreaking ceremony. According to recent updates, the development is set to break ground in the spring of 2024. This event marks the commencement of a journey that will ultimately redefine the Snowpark Deer Valley experience.
How are Current Owners of Deer Valley Real Estate Responding to the Development Plans? The announcement of the Deer Valley Master Plan has generated significant excitement and anticipation among the public. Here's how the community and winter sports enthusiasts are responding:
Positive Outlook: Many members of the local community view the development as a positive step that will bring economic growth and opportunities to the region. It's expected to potentially reduce traffic as more people load off Hwy 40 and the new Mayflower Resort, create jobs, and boost tourism, benefiting the local economy.
Expanded Offerings: Snowpark Deer Valley's reputation for world-class skiing will only be enhanced by this expansion of the base village. Deer Valley faithful are looking forward to the promise of additional terrain and state-of-the-art facilities. Other ideas include a ski beach, ice rink, and an overall improved village center.
Deer Valley Real Estate: While the details of the real estate are not 100% concrete, there will exciting new Deer Valley condos and Deer Valley townhomes for sale with this project. The Deer Valley homes for purchase will be high-end, thoughtful designs in line with what KSL and Extell expect for the new base village, offering owners the best experience and location imaginable. Please contact us for the most up-to-date information on what will be offered.
Year-Round Appeal: The Deer Valley Master Plan's emphasis on year-round activities, including summer recreation like hiking and world-class mountain biking, has more folks wanting to visit Park City year-round. This diversification promises to attract visitors throughout the year, strengthening the region's appeal.
Luxury and Amenities: The commitment to luxury accommodations and world-class amenities has also captured the public's attention. Visitors are excited about the prospect of enjoying fine dining, spa services, and other top-tier offerings.
Objections to Snowpark Deer Valley: Ideas for the development include a new ski beach. In order to complete this vision, Deer Valley needs a road vacation to redirect traffic away from the current access and create a new road to service St. Regis Deer Valley, Powderwood, Comstock, and other Deer Valley Real Estate in the area. Some locals like Deer Valley the way it is and don't want to grant this road change as they see it pushing more traffic to quieter areas of Deer Valley Loop. Deer Valley Resort is planning a new transportation hub to get people out of their cars and use the free local transportation. Owners of Deer Valley homes have been less objective as the areas of Aerie, Solamere, The Oaks etc. are not as impacted by the development and will add to their enjoyment by having new offerings closer than Main St. Park City. Parking options to access Deer Valley will be lower in town, with the solution being new surface area parking off Hwy 40 at the entrance to Mayflower Deer Valley.
The Snowpark Deer Valley Master Plan, brought to life by Extell Development Company and KSL Capital Partners, represents a momentous transformation for Snowpark Deer Valley. With its anticipated groundbreaking in the spring of 2024, this development is set to redefine the winter sports experience in Park City. The overwhelmingly positive response from the public underscores the high expectations and excitement surrounding this ambitious project, which promises to elevate Snowpark Deer Valley to even greater heights.
Our Takeaways:
With so few Deer Valley homes for sale in the area, we see this as a major bump to the values of Park City real estate in general. Deer Valley condos near the resort will essentially become as close as you can get to ski-in ski-out properties in Park City, adding a huge boost to value. Owners of Park City condos will have added options to wine and dine, but we do not feel values will increase there because of the development. Values in Old Town Park City still benefit from there being very few Park City homes for sale.
Whether you are looking to buy or sell Park City Real Estate, Deer Valley Real Estate, or Midway Real Estate, our team of Realtors is here to help. Over the past 5 years, we've sold over $500 million in property in Deer Valley, Empire Pass, Old Town Park City, the Canyons, Hideout, Tuhaye, and all surrounding areas. Being the best realtor in Park City is what we strive for and no job is too big or too small. Deer Valley homes, Park City condos, Empire Pass ski-in ski-out properties, Hideout lots and New Construction are all in our wheelhouse so please don't hesitate with the simplest of questions. We look forward to hearing from you so please reach out with your questions! Matthew Magnotta ([email protected]) Lindsey Holmes (li[email protected]) Brad Erickson ([email protected])
For more information on us and to meet our Team - https://parkcityrealestate.com/team