Comprehensive Ventures
There are countless ways to enjoy Mother Nature in Park City. The establishments discussed below offer well-rounded experiences to ensure their customers get the most out of the stunning surroundings.

Destination Sports offers various adventures that are suitable for all seasons. Given the eight different summer activities offered, you'll never experience a dull moment! The short 40-minute drive from Park City is worth the stunning scenery and rush you'll experience on a half-day or full-day guided paddle rafting trip. The adventurer in you will appreciate a solo or tandem kayak rental or a two-hour tubing session complete with rough-and-tumble sections, whitewater, and strong currents.

For a more serene yet still challenging day on the water, opt for a guided stand-up paddleboard journey to test your physical strength and balance. This is a great way to enjoy the beautiful scenery while still getting a workout! Challenge your fishing abilities on the Weber River with a guided fly fishing float trip, fit for anglers of all levels. Fly fishing tours include a raft, guide, gear, snacks, and an optional $20 catered sack lunch.

Nature lovers who prefer to stay dry need not look elsewhere — Destination Sports also offers hiking, biking, ATV rides, and horseback riding experiences. Combination day excursions and guided courses are available to those who simply can't pick which adventure to choose, including pedal and paddle trips, hike and paddle trips, and mountain horseback ride and raft trips. Your inner nature enthusiast will burst with glee when you visit Destination Sports.

Families are welcome with open arms at Trailhead Park. There are three premier destinations to visit within this well-loved, 63-acre community park. Recreation facilities offered here include a basketball court, a street-style skateboard park, a bike park, four fenced tennis/pickleball courts, two playing fields, two playgrounds, and more! The fantastic skate park is open during summer and is fit for boarders of varying skill levels. The Trailside Bike Park has a broad range of riders and tracks sufficient for all. Head to the Trailside Disc Golf Course for a different outdoor activity, featuring nine holes of boundless fun within a stunning mountain desert setting. Host your next company meeting, family gathering, or children's birthday party at the meeting room or one of the three pavilions available for rent. Bring your dog to run around off-leash areas and explore the never ending amenities available to Trailhead Park patrons.

Get everything you need for a fun-filled day of outdoor festivities with the help of All Seasons Adventures. Their guided hikes vary in skill level and range from local mining history excursions to leisurely strolls. Equestrians get the chance to explore the majestic beauty of the mountains via a professional tour, passing stunning meadows and alpine lakes along the way. Brush up on your shooting skills with a trap shooting experience, blasting clay pigeons in Kamas, Utah, a quick 20-minute drive outside of Park City. Enjoy a personalized fly fishing trip where professionals help you get your license and gear underway, granting you the chance to catch Grayling and Brook trout.

Can't decide which guided trip to choose? Opt for a bike & float, float & fly fish, or cast & blast adventure package so that you can relish an all-encompassing nature encounter. Whichever option you choose, you're bound to have an exciting day on the land, lake, or both with All Seasons Adventures.

City Park has a plethora of amenities and family-friendly activities to enjoy throughout its expansive open space. The South End pavilion can be rented for your next family gathering or business assembly, featuring picnic benches and a sizable charcoal barbecue. Sports enthusiasts adore the softball diamond, state-of-the-art skateboard park, and sports courts, including volleyball, tennis, and basketball. Your kids can climb the playground equipment while you grill some burgers and hot dogs on the griddle of this outdoor recreational haven. Host your next private event from May through October or simply enjoy some passive and active recreation at the locally adored City Park.


Credit: Park City Mountain


Hiking
Hiking is a free, fun pastime enjoyed by people of all ages, and Park City is brimming with nature areas ready for exploration. Visit one of these premier trails to get in touch with the great outdoors. With approximately 400 miles of trails to tour, you can easily spend your entire summer hiking mountainsides and wooded areas.

Round Valley Summer offers just under 700 acres of preserved open space enveloped with sage, scrub oak, mountain mahogany, and beautiful wildflowers. There are five different trailheads to explore, including The Cove, Old Ranch Road, Round Valley Way, Highland Drive, and Quinn's Junction. The Round Valley trail features 30 miles of double and single-track paths, with trails accessible to hikers of all skill levels. Delve into the lush surroundings and winding trails of Round Valley Summer.

North Basin is a dog-friendly location with various small, off-beat trails. This is an excellent option for those looking for some peace away from more popular paths where large crowds gather. Hiking trails vary in difficulty with options available to novices and experts alike. North Basin offers 13 different routes to ensure visitors find the right choice for their skill level and motives. Bring your cruiser for biking amongst the greenery, a walking stick for the challenging hikes, or your leashed canine companion for a beautiful nature walk. Whatever your prerogative, you'll undoubtedly adore the footpaths and landscape of North Basin.

Open to nature lovers of varied abilities, East Basin has six different footpaths to discover. The Promontory area features single-track trails, paved paths, out-and-backs, and a loop accessible to folks of differing hiking prowess. The Trailside Bike Park is ideal for mountain bikers, designed with a progression in trail difficulty. Pump tracks and a beginner flow trail are excellent for newbies, while advanced riders can enjoy the hilltop slopestyle and all-mountain trails that feature jumps, bermed turns, and woodland areas. Bring your dog or horse for a stroll, zoom down the mountain with your bike or relish a relaxing hike at East Basin.

Seasoned hikers adore the 25 miles of backcountry trails in Glenwild. Featuring 15 different routes fit for intermediate and advanced mountaineers, these difficult paths are not for the faint of heart. Thrillseekers are welcome to ride their bikes through the steady climbs and fast descents. Head to Flying Dog with your bicycle for exciting small jumps, rollers, and twisting turns. Bring your pup or horse to one of the dog or equestrian-friendly trailheads. Stop by Glenwild to experience the many pathways solo or with your brave, nature enthusiast friends.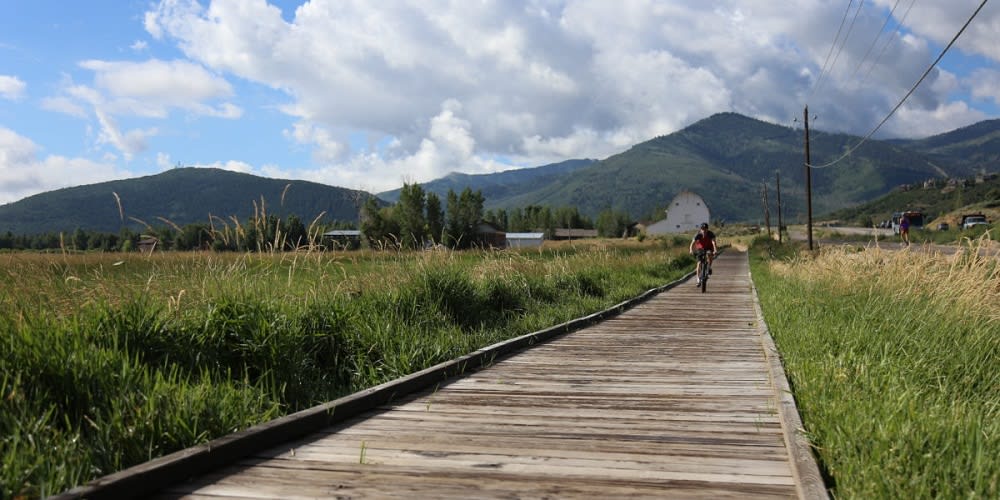 McLeod Creek, Credit: Basin Recreation

Beginners are embraced at McLeod Creek. This trail offers a wide eight-foot soft and paved surface fit for leisurely walks or bike rides. Put a helmet on your youngest, bring them here to teach them how to ride their first bike, or bring your cooing baby in a stroller for a tranquil nature walk. Jogging, biking, and dog-walking are typical undertakings at McLeod Creek. There is even an off-leash area for your pup to romp around! Given the seven different scenic trailheads, you're sure to find one suitable for your needs. Stop by to view majestic wildlife, introduce your children to nature's magic, enjoy an exhilarating mountainside bike ride or revel in some tranquility at McLeod Creek.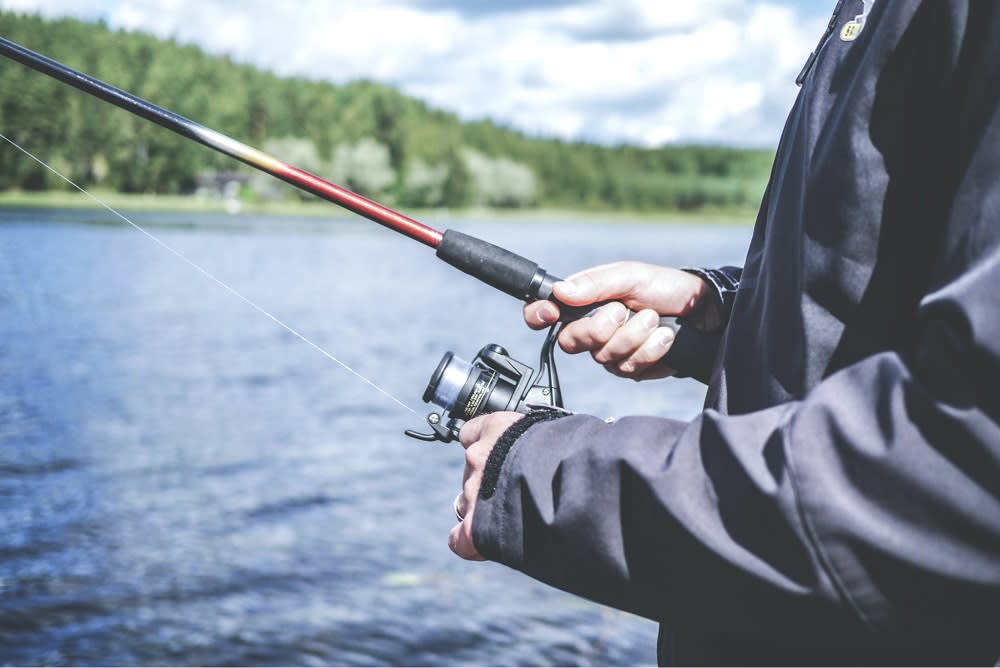 Water Sports
The Park City snow turns into rivers perfect for a well-loved pastime: fly fishing. The Weber River and Provo River are blue ribbon fisheries where the water is overflowing with jumping fish ready for the catch. Stillwater fly fishing is another option — local anglers head to nearby reservoirs, including Strawberry, Echo, Rockport, and Jordanelle. These waters are brimming with fish, ready for anglers to bait the hook and catch fish 25 inches in length or longer! Stop by the several tackle shops to get prepared for a fun day out on the water, fish with your kids, and bring home the daily catch to cook up for dinner.

There is nothing like the rush of pummeling down river rapids on an inflatable raft, kayak, or tube. Guided river rafting is accessible to beginners, while well-seasoned rafters can head out solo with the help of Exclusive Excursions. If you prefer to enjoy water sports minus the crazy adrenaline rush, opt for stand-up paddleboarding (SUP), SUP yoga, sailing, or boating. There is a broad range of water sports available to Park City locals and visitors that keep patrons coming back for more. Whether you prefer to jetski or get some meditative SUP yoga in, you'll indeed love surveying the beautiful rivers and lakes of Park City.

Are you enticed by this stunning community and looking for Park City real estate? Contact Matthew Magnotta, real estate agent, to aid your search for Park City homes, Deer Valley real estate, or a luxury estate in any of the fine neighborhoods Matthew services. Matthew is the Director of Real Estate Sales for Deer Valley's newest ski luxury condos, Argent. His unmatched client service and extensive experience in golf and ski development projects will ensure you find the luxury home you desire.